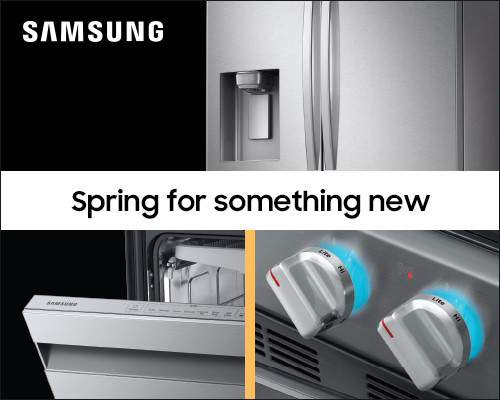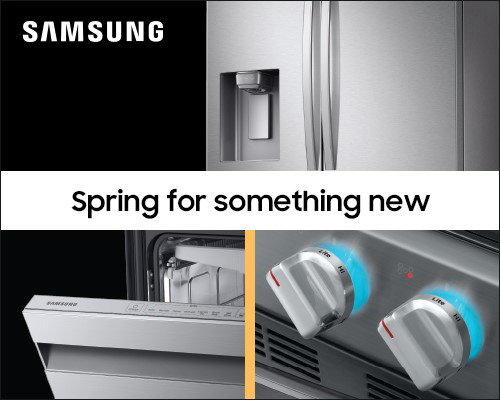 2020 Spring for Something New
Valid Submission Period: 03/05/2020 - 07/14/2020
Purchase 2 eligible Samsung Home Appliances (Refrigerators, Ranges, Dishwashers, Wall Ovens, Cooktops, and Range Hoods) and receive an additional $100 off the pre-tax purchase price in the form of a Samsung Prepaid Mastercard AND/OR 4 eligible Samsung Home Appliances (Refrigerators, Ranges, Dishwashers, Wall Ovens, Cooktops, Range Hoods, Over-the-Range Microwave Ovens, or Countertop Microwaves)? and receive $200?off the pre-tax purchase price in the form of a Samsung Prepaid Mastercard. Ineligible retailers include Lowes, Best Buy, Costco, The Home Depot, Conns, P.C. Richards, and Sam's Club.?6
Frequently Asked Questions
Do I have an eligible purchase?

When can I expect my Samsung Prepaid Mastercard? Reward Card?

How do I redeem this offer?

Can I submit for more than one qualifying purchase?

I bought the Samsung Appliance Products from a non-participating retailer, am I eligible for this Offer?

I previously bought qualifying products in one single transaction from a participating retailer, can I still participate in this Offer?

What information do I need to submit?

Where do I find serial numbers on my home appliance?

I lost my receipt/proof of purchase to the qualifying home appliance purchase; can I still participate?

What happens if I don't submit my information online by June 14, 2020?

What do I do if I get the error message "Invalid Serial Number" when inputting my serial number for my home appliance?

What happens if I'm having problems submitting my claim?

How can I check the status of my claim?

I submitted my information but I haven't gotten an email confirmation in 5 business days. What do I do?

What is my course of action if I am rejected?
SEE MORE

Start a live chat
Text chat with an agent right now, 24/7.

Check gift status

Give us a call
1-866-888-5503

Monday - Friday: 8:00 a.m. - 12:00 a.m. ET
Saturday - Sunday: 9:00 a.m. - 12:00 a.m. ET
6 After submitting valid Offer Claim Form and receipt. Limited quantities available.