What to do if you have lost your Galaxy device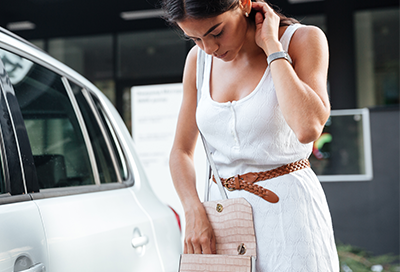 If you lost your precious Galaxy phone, tablet, watch, or even your earbuds, you don't need to worry. The Find My Mobile feature allows you to lock or unlock, locate, or if worst comes to worst, completely wipe your data. Rest assured, even your Samsung Pay payment information can be locked or erased, and all of this can be done remotely. There are also similar services available for your watch and earbuds within the Galaxy Wearable app.

Note: Available screens and settings may vary by wireless service provider, software version, and model. These services can only locate your device if it is powered on.

SmartThings Find
The SmartThings Find feature in the SmartThings app will help you locate your missing devices, like your phone, tablet, earbuds, and watch. SmartThings Find will scan for your devices and even show you a map with detailed information, including addresses and timestamps. You can also share device information with other Galaxy phone users so a friend can locate a device for you. If you need additional tracking options, you can connect to Find My Mobile within the app as well.
Check out our complete guide to using SmartThings find with the SmartThings app.
Find your phone or tablet using Find My Mobile
If you've lost your phone or tablet, you can pinpoint its whereabouts using Find My Mobile.?
When you want to track a phone or device, navigate to the Find My Mobile website. Select Sign in, and then enter your Samsung account credentials. It needs to be the same Samsung account associated with the phone or tablet. Or, it must be an account that is assigned as a guardian. Next, select SIGN IN.
If the device is turned on and is connected to either Wi-Fi or mobile data, its last known location will appear on a map. If you have more than one device connected to the Samsung account, all of the devices will appear on the left side. Select the name of your desired device to see its location.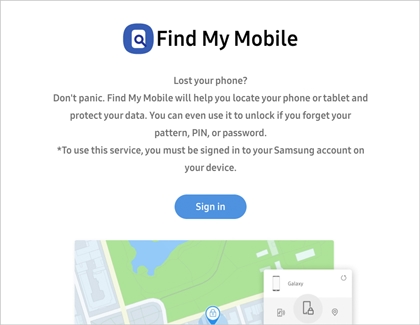 When you click on a device, the right panel will display all the remote options available:
Ring: If you don't know where you put your phone or tablet, make it ring even if it was set to mute.


Lock and Unlock: If you are worried about your personal data, you can remotely lock your phone or tablet. This will activate a Lock screen and suspend your cards in Samsung Pay. If you forgot your unlock method, you can also unlock your phone or tablet remotely.


Note: If locking or unlocking your phone or tablet was unsuccessful, a red exclamation point will appear.

Track location: Check where your missing phone or tablet is every 15 minutes. Refer to the next section to see instructions for tracking a missing device.

Erase data remotely: Don't let that thief access your private data. Remember, your phone or tablet will be completely reset and you will lose all your data, including your financial data in Samsung Pay.


Note: If a Google account is registered, you will need to sign into the account before you can use the phone or tablet again.


Extend battery life: The last thing you want is for your lost phone or tablet to turn off. Use this feature to get the most out of your phone or tablet's battery life and increase the chances of finding it.

Set Guardians: You can designate guardians that can remotely locate the phone or tablet, activate Emergency Mode, or ring the phone or tablet.
Track a missing phone or tablet
Caution: If you are using Find My Mobile to locate a stolen phone or tablet, do not go directly to the location on the map. Inform the authorities and let them retrieve it for you.

If you think you left your device in a moving vehicle, such as a bus or train, or if you think it was possibly stolen, you can get frequent updates about its location. Find My Mobile's Track location feature will send you updates every 15 minutes with the device's latest location.
From the Find My Mobile website, select Track location on the right side. Select Start, and Find My Mobile will begin sending you location updates. If you no longer want to receive updates, simply select?Stop.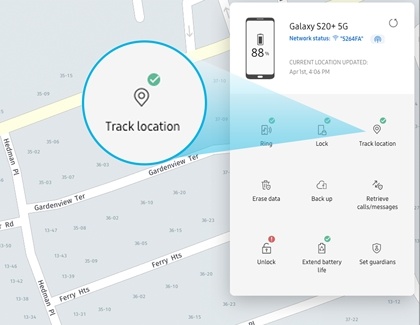 If you are still unable to locate your phone or tablet, your carrier may have a service to help locate or suspend your phone. Please contact your carrier for additional information.
Extend your phone's or tablet's battery life
Worried your device's battery may die before you get its location? Find My Mobile lets you extend the battery life by remotely turning on Maximum power saving mode.
From the Find My Mobile website, just select Extend battery life on the right side, and then select?Extend. Maximum power saving mode will automatically activate. In this mode, your device's battery can last for literally days.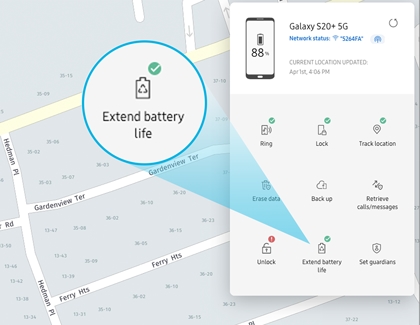 Make your phone or tablet play a ringtone
If your phone or tablet is somewhere in your home or car but you still can't seem to find it, you can make it ring so you'll be able to locate it.
From the Find My Mobile website, select?Ring on the right side, and then select?Ring again. A ringtone will start sounding for one minute, even if the phone or tablet is set to Mute, Silent, or Vibrate. If you find the device, you can turn off the ringing by swiping Dismiss.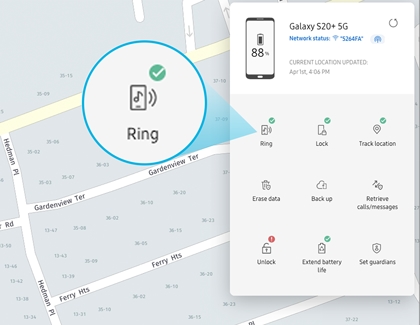 Remotely lock your phone or tablet
One of the biggest concerns about losing your phone or tablet is someone stealing your personal information. For an extra layer of security, you can remotely lock your device.
From the Find My Mobile website, select?Lock on the right side, and then select?Next. Create a PIN number for when you find the phone; make sure to enter it twice. If desired, you can add an emergency contact and a message that will appear on the device's lock screen. That way, someone will know who to contact when they find the phone or tablet. When you are ready, select?Lock.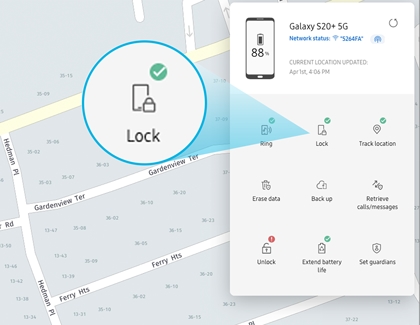 Erase all data from the phone or tablet
If you can't find your phone or tablet anywhere and you're afraid it might be gone forever, you should perform a remote factory data reset on it. By doing this, you'll erase the device's data and no one will be able to access your personal information.
Before you reset the phone, make sure to back up your data, so you can retrieve it later. From the Find My Mobile website, select?Erase data on the right side of the screen. Read the important information, and then select?Erase. You may be asked to verify your Samsung account before the reset starts.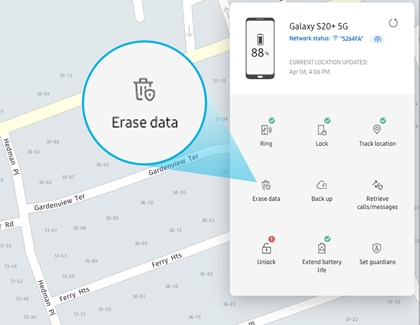 In the event you do discover your device, Google device protection will be activated if you had a Google account registered. This is an extra layer of protection for when devices are reset. It will?require you to sign into your Google account before the device will unlock.
If for some reason you cannot remotely erase your device, Samsung recommends that you change the passwords on any accounts that may be logged into the device to prevent any unauthorized access. When you change your Samsung account password, every device that uses that account will be logged out automatically.
Note:?If your phone or tablet has an SD card, its data will also be erased during the reset.
Find your phone using your smart watch
Accidentally left your phone somewhere? You can use your smart watch to locate it.
On your smart watch, press the Home key, and then swipe to and tap Find My Phone. Tap Start to begin locating your phone. The phone's ringtone will sound, making it easy to locate. Find your phone and then swipe down on the Dismiss icon.
If you are unable to locate your phone using your watch, you should try searching for it with Find My Mobile instead.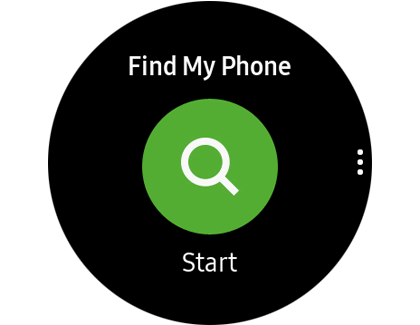 Find your smart watch
Note: Make sure you have all the requirements, such as Remote connection, already set in place in the event you lose your watch. Your watch must be connected to a Wi-Fi network or have a mobile data connection.
If you've lost your smart watch, you can find it using the Galaxy Wearable app. The Find My Mobile service won't let you see the watch's location, but it does let you lock or erase Samsung services such as Samsung Pay.
On your phone, navigate to the Galaxy Wearable app, and then tap Find My Watch. (On fitness bands, tap Find My Band or Find My Gear.) If your watch is connected to your phone using Bluetooth, tap START. Your watch will begin vibrating so it's easier to find. When you find it, tap the X icon and swipe to the right.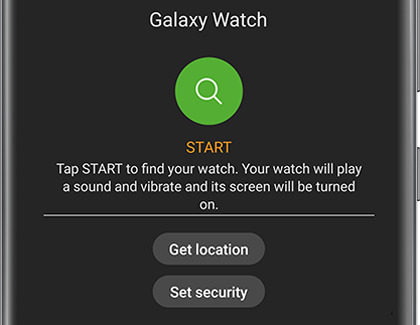 If you've lost your watch somewhere out of Bluetooth range, you'll have two options available when?Remote connection is turned on:
Get location: Gives you the address of where the watch is currently located. You can tap Show on map to locate the watch on a map.


Set security: Access options to remotely set a lock, reset, or put a reactivation lock on the watch.
Find your earbuds
Note: On iOS devices, this feature is only available for the Galaxy Buds+ or Galaxy Buds Live when connected to the Galaxy Buds app on an iPhone 7 or later with iOS 10 or higher.?
You won't need to buy new Galaxy Buds if you've misplaced them because the Galaxy Wearable app makes finding them super easy. Your earbuds must be charged and connected to the app on your phone or tablet in order to locate them.
On your phone or tablet, navigate to the Galaxy Wearable app. Tap Find My Earbuds, and then tap Start. The earbuds will start beeping, getting gradually louder for a period of 3 minutes. Tap Stop to end the search.

The app will show the earbud(s) as disconnected and will not be able to locate the earbud(s) if out of Bluetooth range (32 feet), or the battery is dead. Additionally, the earbuds may not beep if there's foreign substances or debris blocking the IR sensor.
This function cannot be used to locate a missing charging case.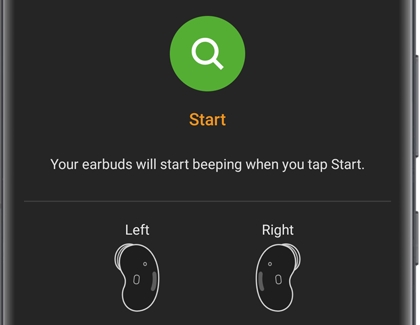 What if I can't find my device?
If you cannot find your phone, tablet, watch, or pair of earbuds, you will need to purchase a new one. You can do so on the Samsung website. Lost items are not covered by a standard warranty.
Other answers that might help
How would you like to contact us?
1-800-SAMSUNG Mon – Sun: 8AM – 12AM (EST)

Call Us
Want help right away?
Email as a contact option was discontinued as of April 3rd, 2019. Please contact us via Live Chat for a faster response.
Give us a call 1-800-SAMSUNG (1-800-726-7864)

Mobile Support 8 AM - 12 AM EST 7 days a week

Home Electronics & Appliance Support 8 AM - 12 AM EST M-F 9 AM - 6 PM EST Sat, Closed Sunday

IT/Computing Support 8 AM - 9 PM EST, Mon - Fri Closed Sat-Sun
mobile|phones